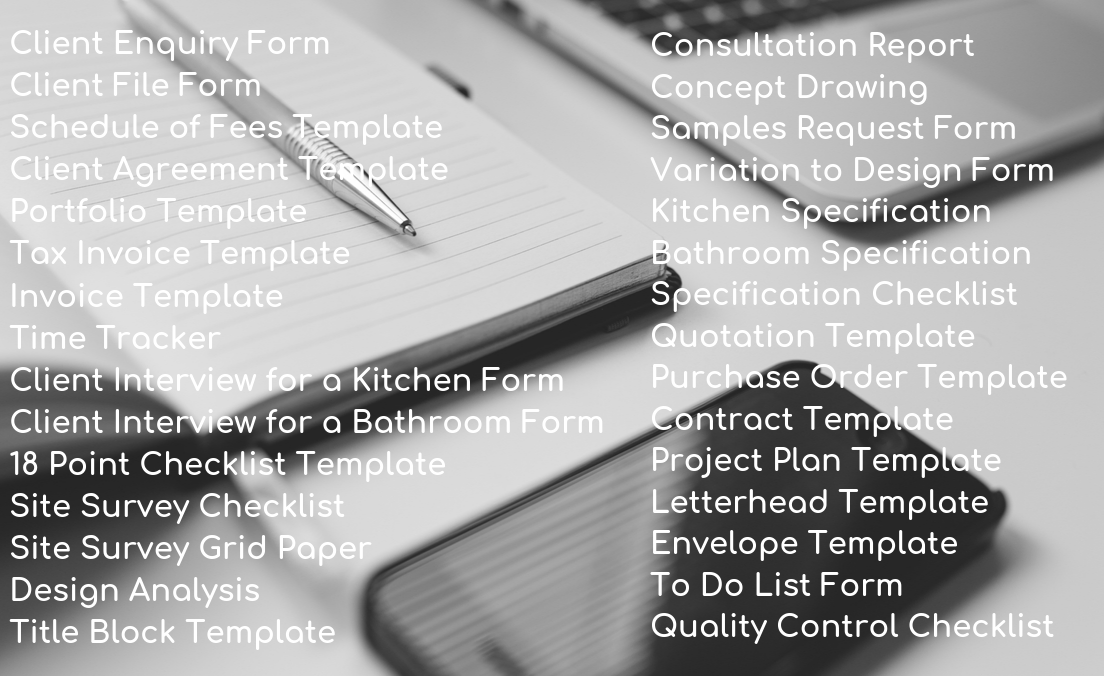 Kitchen and Bathroom Design Business Blueprint
Designers Who Mean Business
Proven formula for running a successful Kitchen and Bathroom Design Business
About the course
The Kitchen and Bathroom Design Business Blueprint course is designed for:
Business Owners looking to refine their business processes
Designers wanting to set up and run their own business from scratch
This short course presents participants with a proven formula for running a successful business as a Kitchen and Bathroom Designer and provides a systematic approach to running Kitchen and Bathroom Design Business. Participants will walk away with over 30 customisable tools including templates, checklists and documents to run a successful design business.
Course duration and delivery
Allow 3 weeks with 4 hours per week including watching a recorded class each week. As this course is flexible you can watch the classes in your own timeframe.
Class notes are provided. You will have access to the course resources for 8 weeks.
Course Outline
This course covers business tools used in all phases of the design process including:
Initial Enquiry
Design Brief
Site Evaluation
Design Development
Initial Presentation
Refine and Finalise Documentation
Procurement and Contract
Implementation
General Administration
Resources
30 Business Tools developed to run a successful Kitchen and Bathroom Design Business
Tools we use include:
#1 Client Enquiry Form
#2 Client File Form
#3 Schedule of Fees Template
#4 Client Agreement Template
#5 Portfolio Template
#6 Tax Invoice Template
#7 Invoice Template
#8 Time Tracker
#9 Client Interview for a Kitchen Form
#10 Client Interview for a Bathroom Form
#11 18 Point Checklist Template
#12 Site Survey Checklist
#13 Site Survey Grid Paper
#14 Design Analysis
#15 Title Block Template
#16 Consultation Report
#17 Concept Drawing
#18 Samples Request Form
#19 Variation to Design Form
#20 Kitchen Specification
#21 Bathroom Specification
#22 Specification Checklist
#23 Quotation Template
#24 Purchase Order Template
#25 Contract Template
#26 Project Plan Template
#27 Letterhead Template
#28 Envelope Template
#29 To Do List Form
#30 Quality Control Checklist
Trainers
All trainers are experienced industry experts with broad skills and knowledge in running a successful kitchen and bathroom design business.
Support, advice and feedback
Our Student Support team offer a range of options for assistance. You can make contact during business hours via phone or email to log a request for assistance, guidance and feedback.
Dates and duration
You can commence this course at any time. Once you have registered you will be contacted by our Student Support Team within 1 business day who will provide instructions on how to access the videos and resources.
Certificate of participation
Certificate of Participation is available by request.
Cost
$350 inc GST
Need more information?
If you require any further information regarding this course, please contact us and we would be happy to assist.