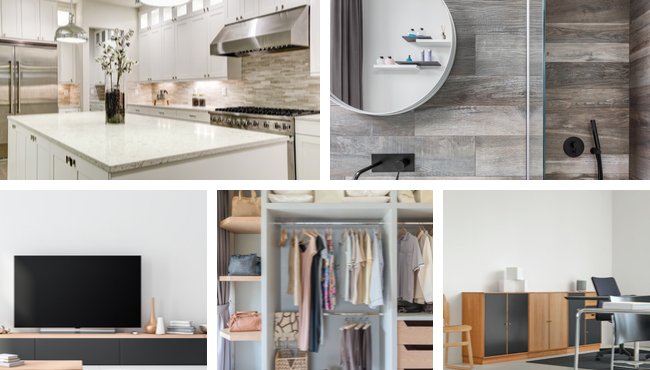 Certificate IV in Kitchen and Bathroom Design
Online – for students all over Australia.
The Certificate IV in Kitchen and Bathroom Design (Nationally recognised course code MSF40318) is the only specialised qualification in Australia for professionals designing kitchens, bathrooms and other residential spaces which feature built in cabinetry.
Career Options
Designer for a kitchen manufacturer, cabinet maker or builder
Designer for a bathroom renovation specialist
Work in a family business combining design with administration
Run your own business as an independent designer
Work in a retail environment
Sales or specification roles in the building and construction industry
Delivery Mode and Duration
This course is delivered to students all over Australia by distance education. This is a combination of online learning and remote private classes where a trainer logs into your computer.
The course is delivered part time over 12 months (with 18 months to complete) or full time over 6 months (with 9 months to complete). Students can progress at their own pace and can finish in a shorter time or can take some breaks and use the additional time provided.
This course is multi-modal with a combination of distance (online) learning and remote private classes
Convenient learning from home, work or your preferred place of study
Flexible study mode to suit busy lifestyles
Easy to follow online and printable resources
Learning support available by private phone tutorials and private remote classrooms
Nationally accredited course and industry recognised qualification throughout Australia
Course Outcomes
At the end of this course, students are equipped to design and prepare documentation for residential spaces including kitchens, bathrooms, wardrobes, entertainment areas, studies and have general knowledge in other areas that include built in cabinetry.
The course covers the following areas of kitchen and bathroom design:
Initial Enquiry

Design services
Design fees
Design services

Design Brief

Product + lifestyle + other needs
Gather and analyse
Client requirements

Site Evaluation

Forms + checklists
Observe + analyse site conditions
Standards for documentation

Design Development

Ideation + problem solving
Function + spatial planning
Selections + aesthetics

Initial Presentation

Presentation techniques
Computer Aided Design (2D and 3D CAD)
Client feedback + variations

Refine & finalise documentation

Standards for documentation (AS1100 + industry)
Technical drawings
Specifications

Procurement & Contract

Pricing + Estimating
Quoting
Contract documentation

Implementation

Trades + sequencing
Timeframes
Project plan work
Pathways from other qualifications
If you have completed a qualification or other accredited training, you may be able to apply for Credit Transfers as your Elective Units in this course.
Certificate IV in Interior Decoration
Certificate IV in Design
Diploma of Interior Design and Decoration
Diploma of Interior Design
Advanced Diploma of Interior Design
Certificate IV in Building and Construction
Certificate III in Cabinet Making
Please note that all applications for Credit Transfer will be considered individually based on your actual circumstances. You can contact DTA to have your documentation (Record of Results or Statement of Attainment) reviewed for potential Credit Transfer.
Entry Requirements
Suitable for those with no industry experience and those with years of experience
Must be 18 years or older
Must be residing in Australia
Must not have a Student Visa
Year 10 (or equivalent) level English and basic maths calculations and measurements
Computer literate in basic Microsoft or equivalent programs
Course Start Dates
We generally take enrolments on the first Monday of the month. The following dates have been confirmed:
7th September, 5th October and 2nd November. Please note that you should aim to have the enrolment form completed and emailed the week prior to allow time for processing.
For further information including course structure, units of competency, timeframes and costs, please download the Course Outline, or contact us.